VIDEO
This is the first video featuring Inciting Riots' music.
It is a clip from a skate video
by Caleb Groh
.
Check it out!!!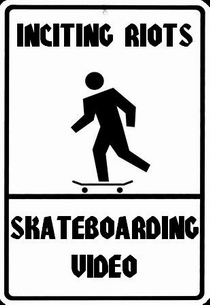 from
Scene Not Heard - Vol. 2

from
Scene Not Heard - Vol. 2
Filmed by Tim Raldo

Only release of this 2015 rerecorded version
Filmed during the brief time we were playing as the Riot Inciters
for more videos, visit Ugly Lenny's YouTube channel
HERE
REVIEWSInciting Riots - Professionals
(included on the CD EP That Band Who So Vauntingly Swore; New Sob Records)

The continuing status of 'Ladies And Gentlemen, The Fabulous Stains', as a cult movie in the US, has ensured a continued exposure to the delights of what in the UK is a largely unknown area of Steve Jones' & Paul Cook's work. Previously, US punk band Sloppy Seconds covered 'Conned Again' (see Conned Again link on the contents page), now it's the turn of San Diego three-piece Inciting Riots to interpret 'Professionals' (as 'Join The Professionals' is known in the movie).
This 6 track EP clocks in at just over 12 minutes, which gives an indication of the pace at which Inciting Riots perform their songs, and 'Professionals' is no exception. It's an uncompromising, valiant performance of the song. Singer/guitarist Ugly Lenny wisely doesn't copy Steve's guitar or singing style, but adapts the song to fit the group's own take on US punk. Dan Skum's drumming is noticeably faster than the original with lightning bass provided by Tim Boyle. Great to see the band sticking to the movie version of the song, with shouts of "Not me, not me, not me!" following the line, "who knows what you're gonna see?"
Considering this is a self-financed recording, the production is surprisingly crisp and dynamic. The verdict: I played this loud and thoroughly enjoyed it. It's heartening to see a current group performing the song and giving it their best shot. What about the other five tracks? Sound fine to me. I somehow wonder why the likes of Sum 41 and Blink 182 become massive, while other bands remain on the fringe. The material here is just as valid.
Recommended.
Review by Phil Singleton
February 2003
My Irish Girl (original version)
4 out of 5 stars. Never heard of these guys, but they sound a lot like Dropkick Murphys. I don't know if it's just becuase of the Irish song topic, but it opens up with the bagpipes. It's a cute song ... I wonder if everything else by these guys is just as good. Download it ... it's for free anyway.
Review by A customer from al-ba-ker-kee
July 1, 2002
If Not For The Ramones
5 out of 5 stars. This song is pure genius. I'm sure it rings true for almost every punk rock musician in the world.. The Ramones are the realest, truest, original punk rockers.. I give Inciting Riots 2 million thumbs up for this one! It rocks!
Review by xxlilruckus from Conyers, Georgia
October 12, 2003
Inciting Riots - Crucified For Our Beliefs CD
(New Sob Records)

Basic but energetic, well-arranged but standard '80's throwback hardcore fare. The best song is "Nasty Cough." It's funny, and singer Ugly Lenny stays on key (unlike the rest of the record). True, it was hard to get past the ridiculous lyrics, but if you're a fan of Adolph Hitler or Rush Limbaugh, there's lots of hate to love here. Oh, and guys: No, you are not going to "burn this city to the ground." You are going to work at Home Depot. MS/incitingriots.
Review by D.A. Kolodenko (March 4, 2009)
INCITING RIOTS - Turn Off the News 7"(New Sob Records)

I suppose the best way to describe the sound of Inciting Riots would be oi at hardcore speed. This is a long-running San Diego band and they really have their sound together. The title song is my favorite of the batch with that great, anthemic chorus. I'd love to hear an alternate version at half-speed, as it would be a perfect mid-tempo, beer-raising oi singalong. This band is very much the type of thing Bruce Roehrs would have raved about in MRR way back when. This stuff really rips. The tempo is full on-hardcore punk speed but those sing-song and anthemic vocals keep things from blurring together
Review by Mike Frame (Razorcake)
May 15, 2023
Got a review of your own to put here? Email it to
info@incitingriots.com